Hey readers! This week's blog topic is about which family night video we are showing and why we chose this video. So the video I chose was Going back to Cali, which is also our Crazy 8's practice, the reasons I chose this one is because 1. Its really funny 2. We had a great experience and practice while doing it and 3. It was a good video

My first reason was it was really funny, for example, we had a story with a big plot twist that made everyone seem stupid, also we had scenes where we did horrible makeup, smashing ice cream in Asia's face, and a fail at hide-in-seek

My second reason for why I chose it for family night was that we had a fun and awesome time filming it, and we thought it a great practice for competition. We all got along, and we were able to make the deadline.

My third reason is that I believe it was a great video, I liked how our shots were nice, and our story worked and turned out great. Like especially in the first scene we had great lighting and a good ozmo shot.

In conclusion, I chose Going Back to Cali because

Its really funny, We had a great experience and practice while doing it and, It was a good video. Thanks for reading!
Powered by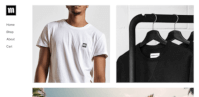 Create your own unique website with customizable templates.